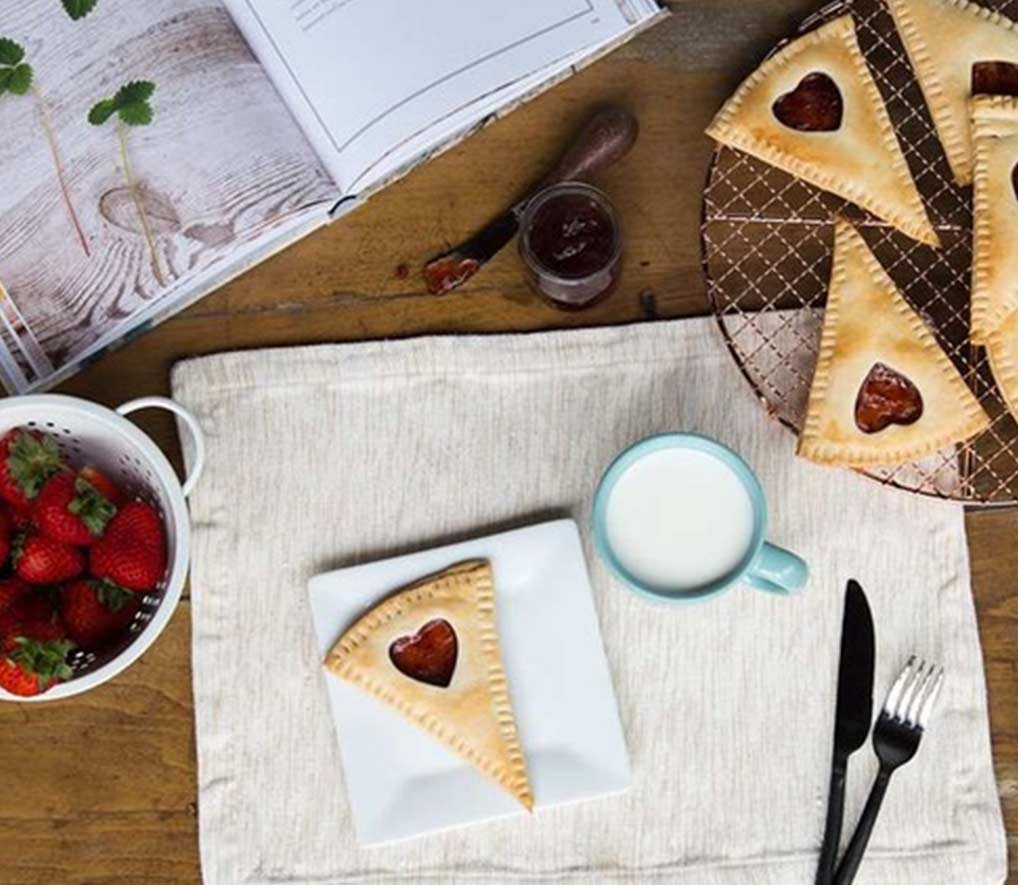 Ingredients
1 (14.1 ounce) box (2 crusts) refrigerated pie crusts
¾ cup strawberry all-fruit spread
2 tablespoons Tuscan milk
4 fresh strawberries, stemmed, if desired for garnish
How to
Heat oven to 425°F. Line 15×10-inch baking pan with parchment paper or spray lightly with no-stick cooking spray. Set aside.
On lightly floured surface, unroll both rounds of pie crust dough. Place one on top of the other. Using a pizza wheel or chef's knife, cut rounds into 8 wedge-shaped pieces (for a total of 16 wedge-shaped pieces).
Place 8 wedges on prepared baking pan. Spread 1 ½ tablespoons strawberry spread on each wedge, leaving ½-inch margin around the sides. Brush the ½-inch margin of pie crust dough with milk.
Using small heart-shaped cookie cutter, cut heart out of each remaining pie crust wedge. Discard hearts. Place wedges on top of jam topped wedges. Press edges with tines of fork to seal. Brush tops of pastries with milk.
Bake for 10 to 12 minutes or until golden brown. Let cool on baking pan 10 minutes; place on cooling rack and cool completely.
Just before serving, to garnish slice fresh strawberries in half from top to bottom to form heart shape. Place strawberry half in each heart cut-out.
Tip: For a flavor twist, spread 1 tablespoon chocolate hazelnut spread on each wedge prior to spreading strawberry spread. Reduce strawberry spread to 1 tablespoon per wedge.

Other Recipes You Might Like